WHICH ACCUVENT IS RIGHT FOR YOUR APPLICATION?
Your AccuVent product selection is based on various factors: type of attic, your roof pitch, the R-value you'd like to achieve, and even how much space is in between the trusses in your attic. By choosing the conditions on this page that represent your specific application, Brentwood can recommend the AccuVent product best-suited for your project.
SELECT YOUR ATTIC TYPE
The Original AccuVent® system is designed for all ventilated attic applications in new and older homes. It channels air from soffit vents along the roof sheathing to provide ample ventilation while preserving insulation coverage throughout the attic space. AccuVent allows superior insulation coverage in the eaves while preserving soffit vent openings. It is available in High Energy and Cathedral Ceiling configurations to adapt to any vented attic application.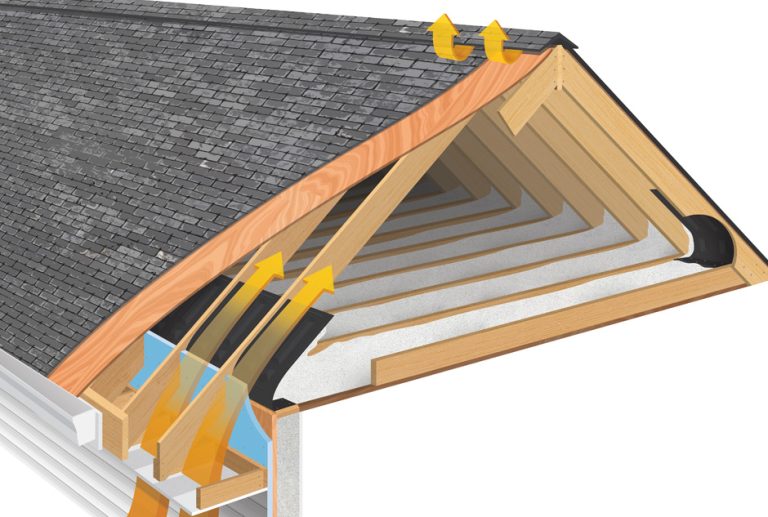 Designed specifically for spray foam applications in unventilated attics, AccuBlock® is the preferred choice for insulation contractors looking to create a clean, tight soffit edge for superior insulation performance. AccuBlock seamlessly connects the top plate to the roof sheathing, eliminating the need to create a time consuming "soft wall." It is an ideal substrate for new projects, providing a secure block against moisture and wind.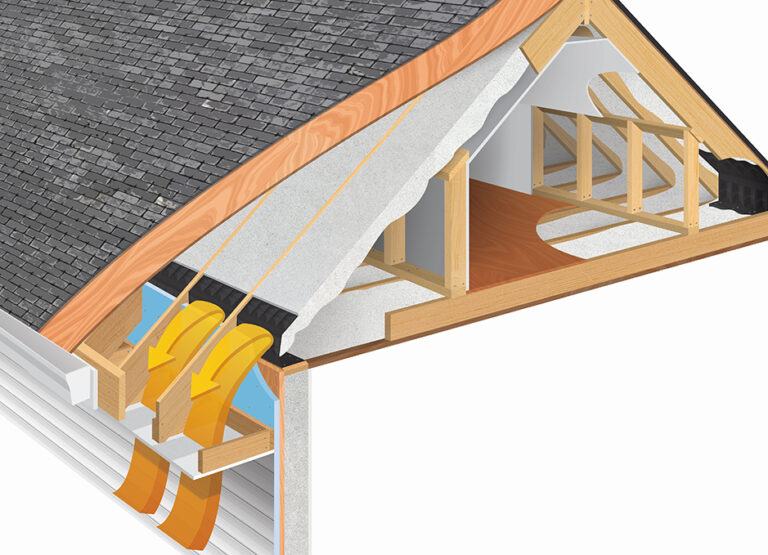 Cathedral ceilings present special insulation challenges. When incorrectly designed, they are prone to rot and substantial heat loss. AccuVent® Cathedral Ceiling vents solve these problems by creating channels for air circulation, ensuring continuous air washing under the roof while sealing off the insulation blanket. This system utilizes starter strips for each rafter opening as well as extensions that lengthen the ventilation path to the ridge vent.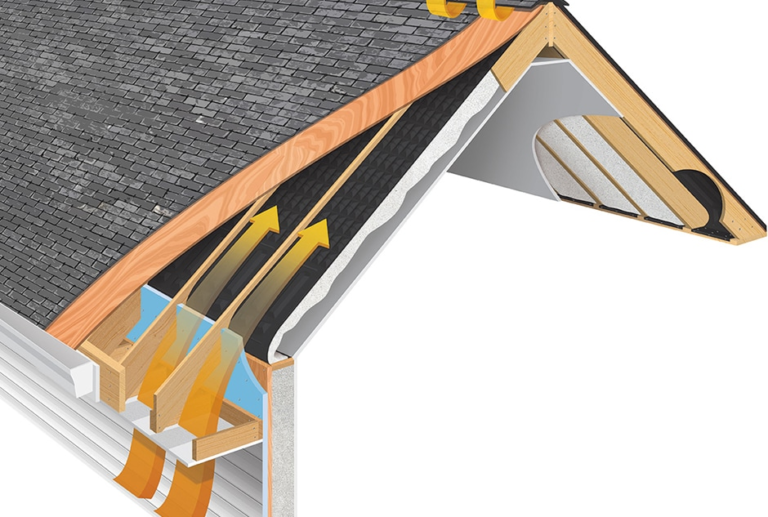 Spray foam is the insulation of choice for unvented cathedral ceilings because of its superior resistance to moisture and wind. AccuBlock® is designed for use with spray foam in unventilated cathedral ceiling applications, seamlessly connecting the top plate and the roof sheathing. Unaffected by the chemical and thermal properties of spray foam, AccuBlock creates a sound insulation envelope within the ceiling space. Combining AccuBlock with spray foam allows the maximum insulation value in cathedral ceiling applications.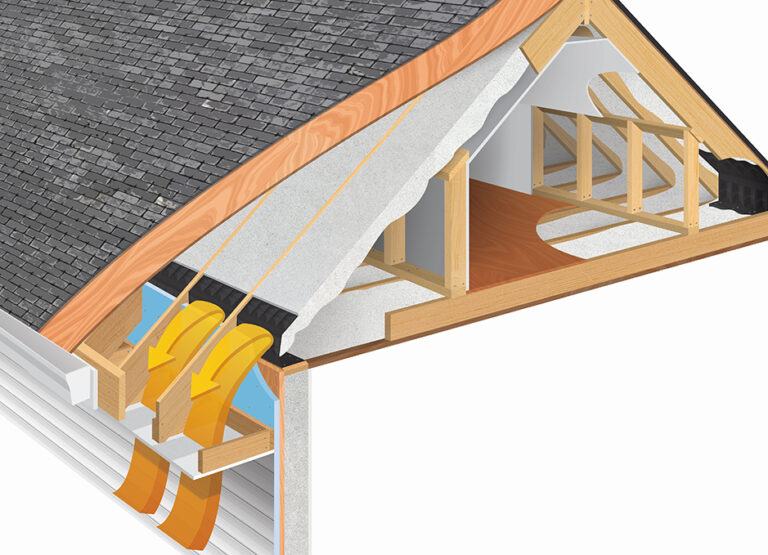 DETERMINE ROOF PITCH & R-VALUE
Determine roof pitch from inside your attic with a few simple tools: a level, a tape measurer, and a pencil. This article from This Old House walks you through the basic steps!
R-Value is a measurement related to the insulation in your attic, often dictated by the climate in your region. See this Energy Star map for recommended r-values in your area. If you need to determine the r-value of already existing insulation, measure its thickness in inches, and multiply by the factor shown below for your specific insulation type:
Loose fiberglass (loose, lightweight yellow, pink, or white material): 2.5
Fiberglass batting (blankets of lightweight yellow, pink, or white material): 3.2
Rock wool (dark grey or white material, often with black specks): 2.8
Cellulose (small, grey fibers or flat pieces): 3.7
For example, if your home has fiberglass batting insulation at a depth of 10 inches, the attic insulation has an r-value of 3.2 x 10 = 32.
R-Value
Roof Pitch (V:H)
<R30
R38
R44
R49
R60
4:12
AccuBlock
Original
Original
Original
High Energy
5:12
AccuBlock
Original
Original
Original
High Energy
6:12
AccuBlock
Original
Original
Original
Original
7:12
AccuBlock
Original
Original
Original
Original
8:12
AccuBlock
AccuBlock
Original
Original
Original
9:12
AccuBlock
AccuBlock
Original
Original
Original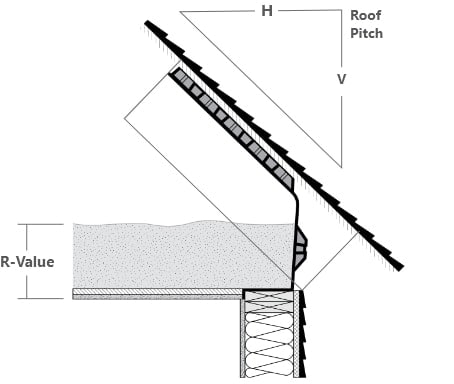 DETERMINE SIZE & QUANTITY
For this step, you'll need to take simple measurements and do some counting in your attic!
To determine which product size is needed for your application, measure the width between two trusses in your attic. You will likely find that these spaces are 16" or 24" wide.
Lastly! To understand how many AccuVent pieces you'll need, count the number of spaces between the trusses in your attic.
For optimum energy efficiency in applications using AccuVent Cathedral products, Brentwood recommends adding extensions from the base of the starter vent all the way to the ridge at the top of your roof. You will need to measure the length from where the starter piece will end to the top of ridge to determine the number of extensions needed.
Choose Your AccuVent